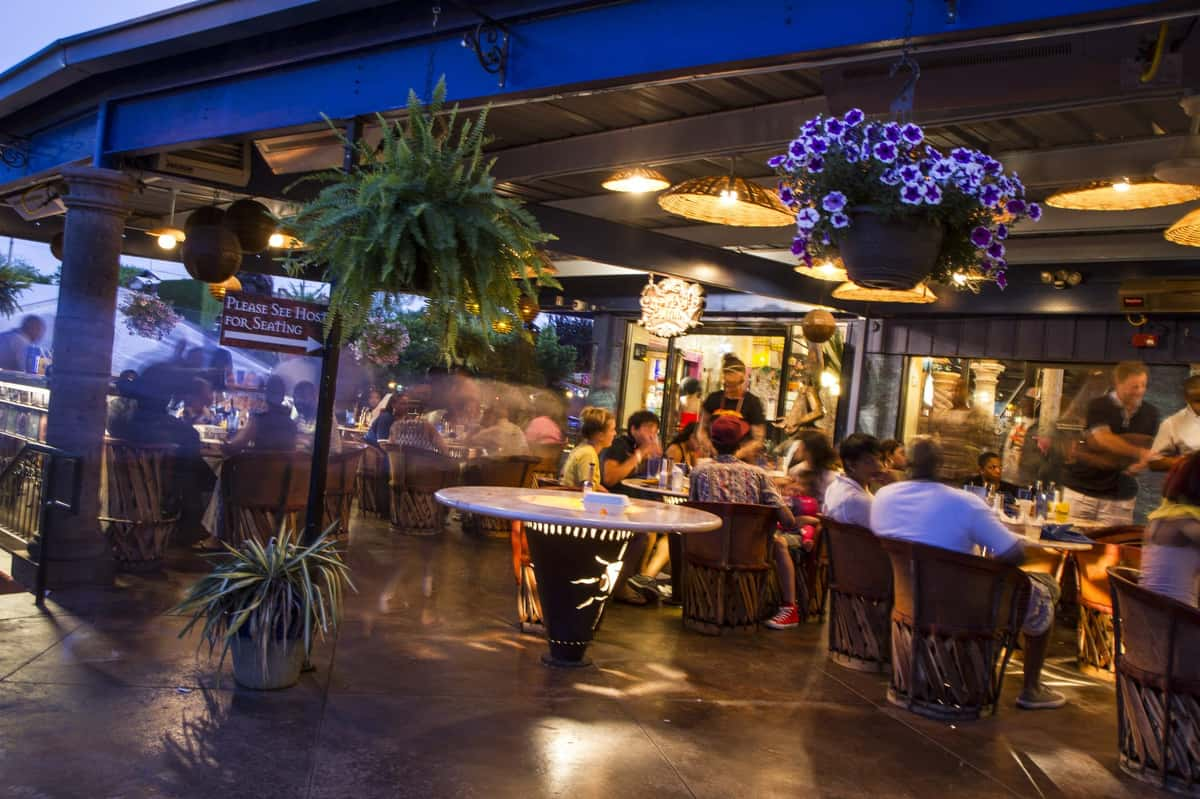 Escape to Mexico at No Mas! Cantina
Escape to Mexico at No Mas! Cantina
In a city rich with so-called Mexican restaurants, one stands out as a true diamond in the rough. 
No Mas! Cantina and Hacienda
 resides in the former Aristocrat Ice Cream Company in the up and coming, diverse Castleberry Hills district. Owners, Walt Bilinski and Steve MacNeil, envisioned bringing the best of Mexico to Atlanta through art, food, and fun. This oasis opened in August 2006 and provides a quick escape to South of the border without having to go through airport security. We invite you to enjoy the best Mexican Dining in Atlanta! [quote]This oasis opened in August 2006 and provides a quick escape to South of the border without having to go through airport security.[/quote] The Hacienda is breathtaking with its unique offerings from over 300 talented Mexican artisans.
 The ADios Caf
é/ Bakery dazzles ones senses with its delectable goodies. Then of course there is the Cantina with its Mexican-inspired foods prepared by self-learned executive chef, Señorita Melody Voirin.
There is no mass production here; even the chips and salsa are made fresh throughout the day. The smoky chipotle-flavored salsa is the perfect partner with the robust taste of the smooth Dulce Margarita-with Partida Blanco Tequila, fresh limejuice, and Agave nectar. Each handmade glass is adorned with a bracelet, a good way to keep count. It was a three-bracelet night. To get things going, the warm flavors of the pureed Butternut Squash soup in a house-made chicken stock are simply divine. As the last slurp disappeared, Cajy, our knowledgable server, delivered the awesome Calamari Frito con Jalapeños. These flash fried treats match perfectly with the chipotle ranch and avocado cream sauces. Dip the jalapeño in the mouth-cooling avocado cream and the calamari in the tangy chipotle ranch and let your taste buds go on a roller coater ride.
Originally posted on
Meals with Megan
The multi-faceted chicken Quesadilla Roja is not like any other in the city. Melody showcases her skills through this dish. The chicken, goat cheese, and sun-dried tomatoes dance with tangy tropical flavors from the mango, pineapple, cilantro, onion, and jalapeño salsa. This is way too good… When I thought the quesadilla was the best ever, out came the otherworldly Tilapia Fish Taco. The Tilapia is lightly coated in a seasoned masa breading, flash fried in order to retain all its deliciousness, then topped with a jicama coleslaw and creamy chipotle sauce and wrapped in a freshly made tortilla- unbelievable.
As for the house specialties, the Camarones Alambres, perfectly grilled jumbo shrimp on a sugar cane skewer resting on top a masa cake with sweet fried plantains touched with an exotic tamarind sauce is a treat not to be missed. One of Melody's favorites, and mine as well, is the Pollo Relleno, after this you will never have a Chili Relleno again. The 24-hour marinated, grilled chicken breast is stuffed with rajas poblano pepper, Chihuahua cheese, and drizzled with salsa verde, served with cilantro-mashed potatoes is melt in your mouth good. To satisfy that carnivore craving, the savory Bistek Café Tamarindo- a skirt steak marinated with a coffee rub, spices, and tamarind with roasted acorn squash puree and seasonal vegetables, each bite seemed to be better than the last.
It is always hard to save room for dessert, but at No Mas! Cantina you are on vacation. The delicate flavors of the Avocado Lime Cheese Cake and the seasonal Pumpkin Flan are heavenly. However, it's the Cuatro Leches that is simply decadent- a moist white layer cake made with four types of milk, topped with a Kahula frosting. Enjoy these yummy gems with either the Gingerbread Chai or Mayan Mocha.
When you get that "got to get away" feeling and you just can't, No Mas! Cantina and Hacienda is waiting to give you that escape to Mexico at least for a while. The next day you'll realize that you can't wait until that feeling comes back again.