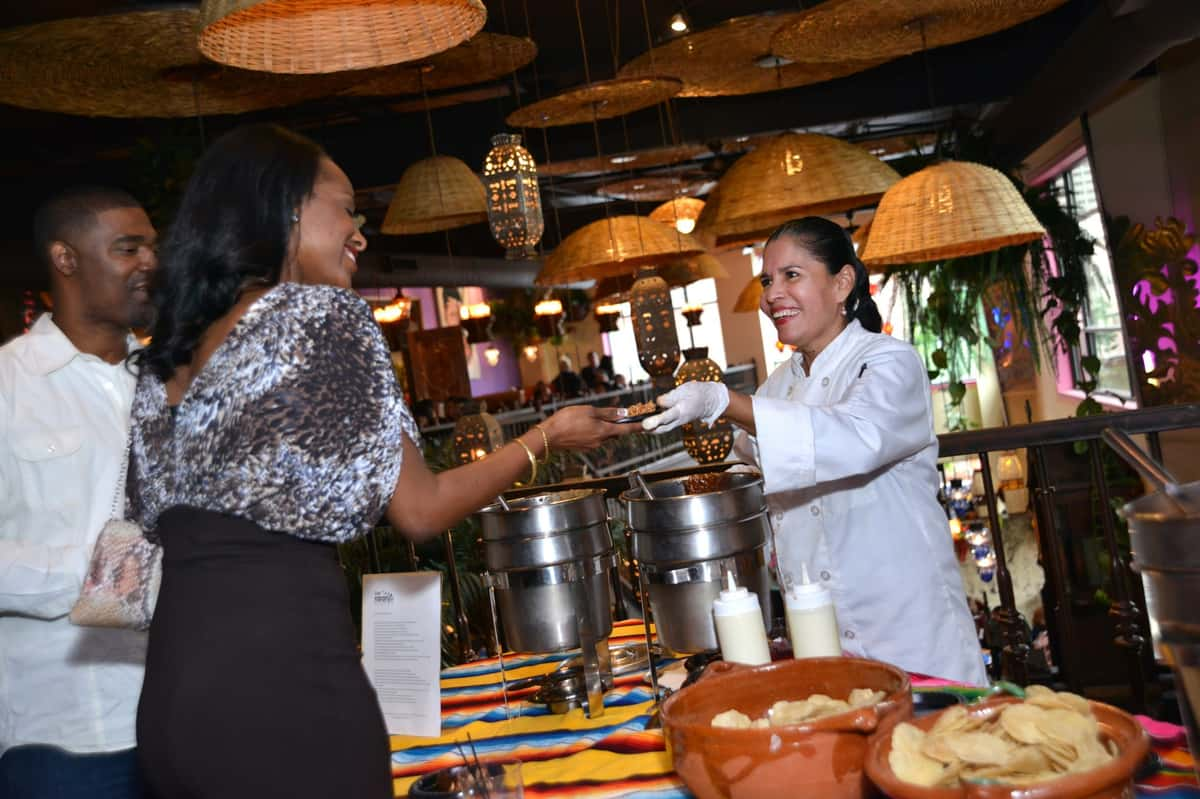 Events
FLEXIBLE VENUE
Intimate gatherings or up to 500 person events, No Mas! Cantina will make your event special and memorable. Our uniquely designed restaurant transports guests to a true Mexican experience. Handcrafted artisan decor fills the restaurant with culture and is even available for purchase in the adjacent Artisan Market. Over 80 tequilas featured and fantastic menu options include "Superior Buffet" with original specialties like Pollo Relleno, Camerones Alambres, and Tampiqueña Steak, or our "No Mas! Appetizer Buffet", featuring chicken & chorizo empanadas, crab cakes, and freshly made guacamole.
CORPORATE EVENTS
Break the paradigm for your team with one of No Mas! Cantina's event spaces. From a boardroom style meeting of 10 to a team building Tequila tasting for 25, to a multimedia presentation for 100, No Mas! is able to do just that. We have the flexibility to accommodate a variety of needs. Integrated AV solutions and culinary excellence are the reasons why No Mas! Cantina should be your next choice for a corporate event. Regardless of size, our team will coordinate your event down to the final detail.
REHEARSAL DINNERS
Definitely the time to relax! Tomorrow's the Big Day; let all your concentration go there. No Mas! will arrange a memorable rehearsal dinner for you with mouthwatering menus and reasonable pricing. Our events team will help every step of the way and let you focus on the celebration. We offer special event areas in the restaurant with delectable menus or catering at your location.
LIFE CELEBRATIONS
Every event is more fun when celebrated at No Mas!. We can make your guest of honor feel special with a planned fiesta, Mexico style. Imagine your group celebrating in our private, festive Tequila Room. Graduations, Wedding Receptions, Baby Showers, Holiday, and Engagement Parties.
RETIREMENT PARTIES
After decades in the workforce, your loved one deserves a first class celebration for all of his or her accomplishments. No Mas! Cantina's private Tequila Room is the perfect venue and our events team will help you every step of the way. Whether it's a cocktail reception or a more formal dinner, we will help plan every detail that will make your event seamless and unforgettable…including AV technology for slideshows and video presentations.
BIRTHDAY PARTIES
From Quinceañera and Sweet Sixteen all the way to 80th birthdays plus, your special guest will have a birthday celebration to remember. Regardless of size, our team will coordinate your event down to the final detail to provide that memorable experience everyone will be talking about for years to come.
MEXICAN FOOD CATERING
Our expert catering team will bring the fiesta to your location. Order from our special menus as a bulk to-go order or have us set up the entire party including staff who will set-up, serve, and then take everything away. You can work with our event coordinator, who will help make your catered event a festive Mexican party.
RECUERDOS & GIFTS
Be sure that each of your guests leaves the party with a little piece of No Mas!. From specially designed ornaments and blown glassware to personalized "Day of the Dead Sugar Skulls" that will make the memory long lasting and cherished.
Whatever your party, event, or celebration, we'll help make it your best! Contact us now.